Seasoned CHRO and Board Member of PayScale, Paul E. Wolfe, Shares One-of-a-Kind Formula for Talent Attraction, Employee Development, and Inclusion in Debut Book Now Available ...
Manuel Suarez to Unveil Highly Anticipated Debut Book 'Marketing Magic' at Attention Grabbing Media World Headquarters, Featuring Renowned Emmy Award-Winning Speaker Mr. Les Brown. The book 'Marketing Magic' is the story of how Manuel Suarez amassed more than 7 billion views, 50 million social media followers, and $250,000,000 in yearly revenue without paid advertising.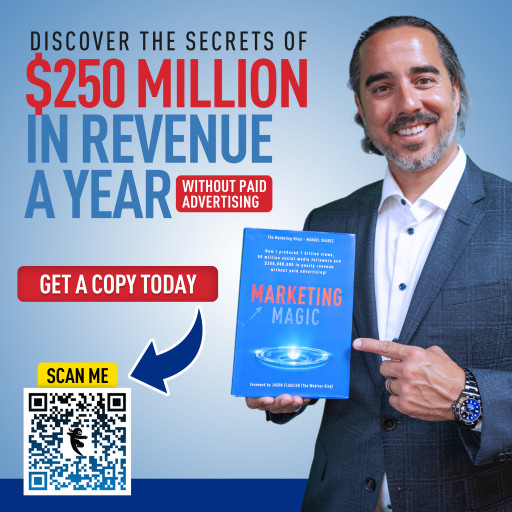 Manuel Suarez - Marketing Magic
Manuel Suarez's widely acclaimed and highly anticipated debut book, \"Marketing Magic\"
LARGO, Fla., September 15, 2023 (Newswire.com) - Entrepreneurs and business owners, prepare for a unique marketing journey. Manuel Suarez, CEO of Attention Grabbing Media, and Co-founder of NaturalSlim USA, a visionary in the world of marketing, is on the brink of launching his highly anticipated book, "Marketing Magic," on September 28th. Drawing from his vast experience and remarkable success, Manuel has masterfully crafted a comprehensive resource that will empower entrepreneurs and business owners to elevate their marketing efforts and achieve unparalleled results.
A journey that delves deep into his own experiences is replete with trials, triumphs, and invaluable lessons. With every turn of the page, Manuel's unwavering focus on marketing and motivation reveals the secrets behind his extraordinary success. 
Beneath the surface of this gripping narrative lies an emotional thread that weaves the tale together. A thread that traces back to the early days of Manuel's life, where a profound father-son bond sowed the seeds of his marketing prowess.
Frank Suárez, the illustrious Puerto Rican nutritionist and creator of the NaturalSlim brand, along with the stellar success of his YouTube channel, Metabolismo TV, with 8 million subscribers, stands as the beacon of inspiration. With Frank's nurturing guidance and boundless support, Manuel's dedication to excellence and relentless drive to push the boundaries of digital marketing sprouted. 
Together, Manuel and his father Frank grew from just one country and 100K followers to a legacy that has grown into millions of followers, billions of views, a global distribution spanning 14 different countries, and generating a quarter billion dollars in annual revenue, without paid advertising. 
Step into the pages of "Marketing Magic" and you'll find yourself embarking on a transformative journey alongside Manuel himself, sharing his own experiences and lessons learned along the way. With an unwavering focus on marketing and motivation, Manuel reveals the secrets behind his extraordinary success and presents practical steps to execute impactful marketing strategies.
By following the expert guidance laid out in the book, readers will gain the knowledge and tools to craft and implement a winning marketing plan tailored to their specific business goals.
Contact Information:
Reinaldo Vandres
PR Rep
[email protected]
(888) 280-3339
Original Source:
Renowned Marketing Minds Will Gather on September 28th to Celebrate the Launch of Manuel Suarez's Widely Acclaimed and Highly Anticipated Debut Book, 'Marketing Magic'
My Southern Table: Recipes from a Georgia Kitchen
BUFORD, Ga., September 14, 2023 (Newswire.com) - Born and raised in south Georgia, Lana Stuart grew up in a family where the kitchen was the heart of the home. The smell of chicken frying, the taste of freshly churned ice cream, the laughter and conversation that filled the air as the family gathered around the dining table— these are the cherished memories that have shaped her and her new cookbook, My Southern Table: Recipes from a Georgia Kitchen. 
A full-color photo and clear, easy-to-follow directions accompany each of the 246 recipes. Notes and tips on nearly every page ensure success in the kitchen.
Readers will find dozens of "heritage recipes" throughout the book. "These are the recipes I learned from my mother, grandmothers, and aunts who were all accomplished home cooks," says Lana. "And I've also created new recipes that reflect the continuing evolution of Southern cooking. This is Southern food as I know it today—vibrant, diverse, and ever-changing."
Enjoy recipes like:
Baptist Church Party Punch
Copper Pennies
Shrimp and Grits
Watergate Salad
Chicken Jallop
Chocolate Little Layer Cake
"Each recipe in this book carries a piece of my heart and tells a story from my life. They are the recipes I turn to when I want to celebrate, to comfort, to share love, and to create new memories with my family and friends. Now, it's your turn to bring these recipes to life in your kitchen and to weave them into your own stories."
Lana Stuart has been a food blogger since 2009. Her popular blog, Lana's Cooking, has more than 5 million pageviews per year and has been featured in Real Simple, Parade Magazine, Bon Appetit, and The Kitchn. Fans and followers can sign up for her daily recipe newsletter, featuring her tried and true recipes. She is a watercolor artist, a bookbinder, and an avid reader. Lana and her husband, Bill, have a daughter and two grandchildren and live in Buford, Georgia. 
Presales are open on all major platforms, as seen here on her website, Lanascooking.com. All available media assets can be found in this folder, Lana Stuart Cookbook Assets. 
MY SOUTHERN TABLE: 
Recipes from a Georgia Kitchen
By Lana Stuart
Imprint: Food and Fiction, LLC
Distributed by Ingram/Spark
Publication date: October 23, 2023
Paperback/$36.99  Ebook/$9.99
346 Pages
246 Recipes, Each with Full-Color Photo
Interior Trim Dimensions: 7.5" x 9.25"
ISBN: 979-8-9880113-6-1 (paperback)
ISBN: 979-8-9880113-7-8 (digital)
FOR MORE INFORMATION AND MEDIA INQUIRIES CONTACT:
Culinary Media Trainings and Productions
Virginia Willis or Cynthia Graubart
###
Contact Information:
Cynthia Graubart
Account Executive
[email protected]
404-822- 1099
Virginia Willis
Account Executive
[email protected]
404-964-1753
Original Source:
Nostalgic, Comfort Food Recipes at Every Meal, 'Welcome to My Southern Table'