Three New Members Join the Bay Area Book Festival's Board of Directors
Exciting Changes for the Bay Area Book Festival as It Heads Into Its 10th Year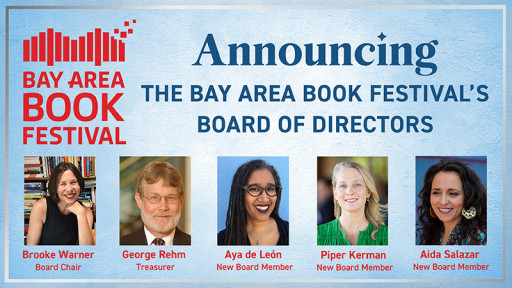 BABF Board of Directors 2023
Announcing the Bay Area Book Festival Board of Directors
BERKELEY, Calif., September 12, 2023 (Newswire.com) - The Bay Area Book Festival has elected three new members to its Board of Directors: Aya de León, Piper Kerman, and Aida Salazar. This exciting slate of members joins Board Chair Brooke Warner and Treasurer George Rehm to lead the festival into its next iteration in the aftermath of the resignation of Festival founder Cherilyn Parsons in 2023. 
The Bay Area Book Festival has been a cultural and literary mainstay of the Bay Area for the past nine years since its inception in 2014. Its headliner events have brought in speakers such as Roxane Gay; Rebecca Solnit; Gloria Steinem; Jason Reynolds; George Saunders; Ann Patchett; Christian Robinson; Tommy Orange; Anthony Doerr; Tayari Jones; Joan Baez; W. Kamau Bell; Kazuo Ishiguro; and many more. 
The festival's dedicated staff and growing board will steer the festival into a future under new leadership. Managing Director of the Festival Samee Roberts will spearhead overall planning for the 2024 Festival, which involves scaling back in size while keeping intact everything that's special and wonderful about this important community event, including diverse and inclusive panels, headliner events, and the family-friendly outdoor street fair.  
Next year will be the Festival's 10-year anniversary, and it will take place, per usual, in Downtown Berkeley in either May or June 2024. "We are planning for a somewhat smaller footprint this year," said Festival Chairperson Brooke Warner, publisher of She Writes Press, "and we're doing everything in our power to ensure that the Festival will be as special and well-attended as it's always been." Warner highlighted that by many measures, both in terms of programming and anecdotally by way of attendee feedback, the 2023 Festival was the most successful yet. Because this is a transition year, a scaled-back Festival will allow the board to adapt in Parsons' wake. "We're committed to continuing the legacy that Cherilyn left us, and this new slate of board members makes me feel confident that we'll be able to do just that."
Incoming board member Aya de León said, "This festival is a precious resource in a world where independent literary institutions are struggling. Stepping onto the board is an opportunity to provide accessible literary community to the Bay Area, to highlight urgent issues in our time, and to celebrate books, authors, reading, and community. I am excited to give back to this community."
The Bay Area Book Festival invites the community to support its efforts for the 2024 Festival by becoming a sponsor, donating or volunteering. Find the Festival's video and podcast archives.
Meet the Bay Area Book Festival's Board: 
Brooke Warner is publisher of She Writes Press and SparkPress, president of Warner Coaching Inc., and author of Write On, Sisters!, Green-light Your Book, What's Your Book?, and three books on memoir. Warner is a TEDx speaker, weekly podcaster (of "Write-minded" with co-host Grant Faulkner of NaNoWriMo), and the former Executive Editor of Seal Press. She has served on the boards of the Independent Book Publishers Association, including for two years as Chairperson; the National Association of Memoir Writers; and the Book Industry Study Group. She has also been on the board of the Bay Area Book Festival since its first year in 2014. She has been Chairperson since 2000. Warner writes a regular column for Publishers Weekly, and weekly Substack @brookewarner. She lives in Berkeley, California. 
George Rehm is a founding partner of aeris CAPITAL AG. He has over 30 years of experience as a lawyer and executive in international licensing, technology transfer, and investment and privatization transactions in the U.S., Europe, and Asia. Rehm has held board or observer positions in numerous transformational healthcare companies, including Crescendo Biosciences, Adamas Pharmaceuticals, and Ion Torrent, Inc. Rehm continues to manage the aeris Life Science portfolio and serves as a director of GenomeDx Inc., PFS Genetics, Butterfly Networks, LAM Therapeutics Inc., Solstice Biosciences, G2i and Jiff Inc. He received his BSFS from Georgetown University, and a JD from the University of California, Hastings College of Law in parallel to graduate studies in City Planning at the College of Environmental Design, UC Berkeley and served as graduate assistant at the Earl Warren Legal Institute, UC Berkeley, Boalt Hall. He lives in Berkeley, California.
Aya de León teaches creative writing in the African American Studies Department at UC Berkeley. She is acquiring editor for a new climate justice fiction imprint at She Writes Press. Fighting Chance Books will publish novels by authors of all genders about people taking collective action in the here and now to solve the climate crisis. de León is the author of 10 novels, published by Kensington, Candlewick, and Orion, all focused on racial, gender, class and climate justice. Her books have won the Jane Addams Award for peace and social justice in children's literature, and multiple International Latino Book Awards and Independent Publisher Awards. de León's work has appeared in Harper's Bazaar, Ebony, Guernica, Bitch Magazine, VICE, The Root, Ploughshares, and on Def Poetry. In 2022, she organized an online conference entitled Black Literature vs. the Climate Emergency and she works on the issue of climate with the Black Hive, which is part of the Movement for Black Lives. She currently has two novels-in-progress and is working on an intersectional memoir-in-progress about race, gender, war, body image, and the environment. She lives in Berkeley, California. 
Piper Kerman is the author of the memoir Orange Is the New Black: My Year in a Women's Prison, which was adapted into an Emmy Award-winning original series for Netflix. She serves on the board of directors of the Women's Prison Association and the advisory boards of the PEN America Writing for Justice Fellowship, InsideOUT Writers, Healing Broken Circles, and JustLeadershipUSA. Kerman is a frequent invited speaker to students of law, criminology, gender and women's studies, sociology, and creative writing, and also to groups that include the International Association of Women Judges, the National Association of Counties, the National Conference of State Legislatures, the National Criminal Justice Association, the American Probation and Parole Association, the American Correctional Association's Disproportionate Minority Confinement Task Force, public defenders, justice reform advocates, and formerly and currently incarcerated people. Kerman has taught writing in Ohio state prisons as an Affiliate Instructor with Otterbein University. She's a graduate of Smith College and lives in Berkeley, California. 
Aida Salazar is an award-winning author, arts activist, and translator whose writings for adults and children explore issues of identity and social justice. She is the author of the critically acclaimed middle grade verse novels The Moon Within; Land of the Cranes; and A Seed in the Sun. Her other works include the picture book anthology In the Spirit of a Dream: 13 Stories of Immigrants of Color; the bio picture book Jovita Wore Pants: The Story of a Mexican Freedom Fighter; and the anthology Calling the Moon: Period Stories by BIPOC Authors. Salazar is a founding member of LAS MUSAS, a Latinx kidlit author collective. She lives with her family of artists in Oakland, California.
About the Bay Area Book Festival 
The Bay Area Book Festival is a world-class literary extravaganza that takes place each year in Downtown Berkeley. For the past nine years, the festival has hosted 250-300 authors on 15 stages; an Outdoor Fair/Literary Marketplace; and a wonderland of literary vendors, kids' activities, and more. The Festival has showcased more than 1,500 speakers who come from the Bay Area, the state of California, the nation, and world. Since its founding, the Festival has thrilled more than 150,000 book-lovers of all ages. The Bay Area Book Festival is not confined to just one weekend. The Festival continues year-round with prologue events, literacy programs, and other special programming including WomenLit, which features groundbreaking female-identified authors, and #Unbound, a virtual series that focuses on critical conversations around voter suppression, race and equity, immigration, poverty, crime and incarceration, and other important topics of our times.
Contact Information:
Brooke Warner
Chairperson of the Board of the Bay Area Book Festival
[email protected]
5109679333
Original Source:
Three New Members Join the Bay Area Book Festival's Board of Directors